How to Create an Authentic and Iconic Conscious Brand with Jennifer Grace and Berjheny Del Mar – Miami, FL
March 10, 2019 @ 1:00 pm

-

3:30 pm

$45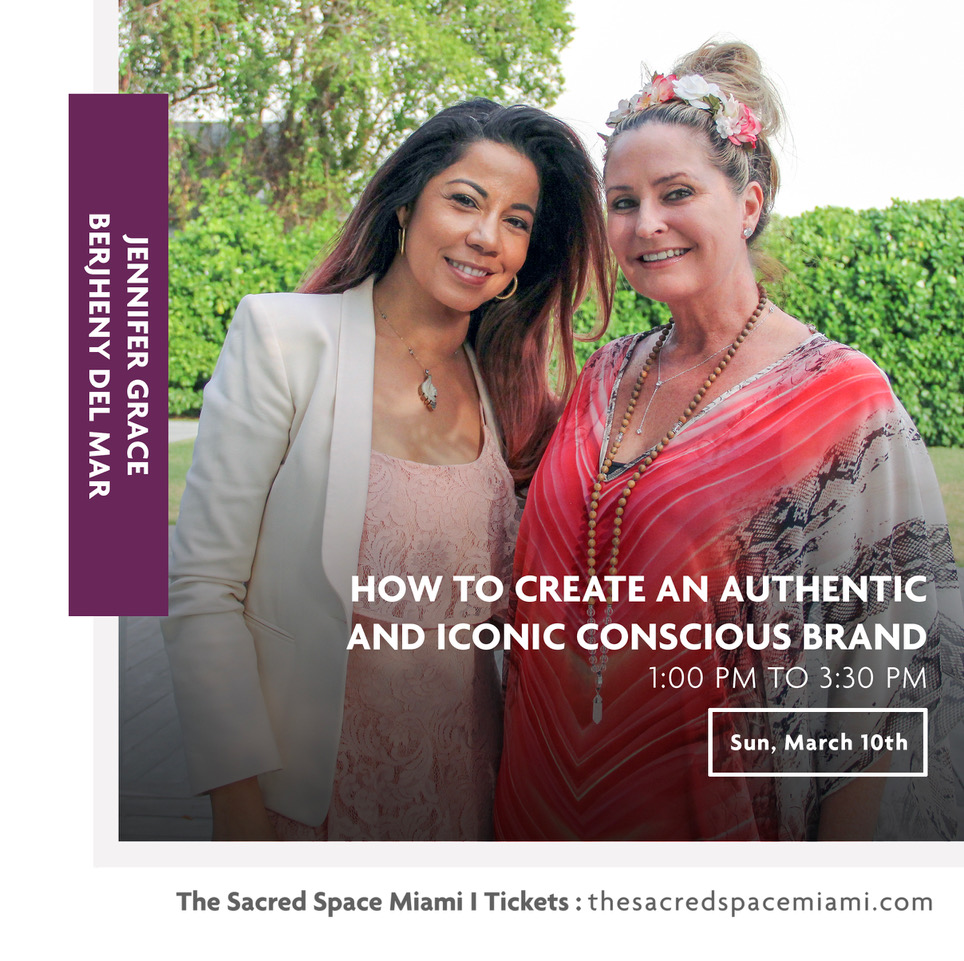 ARE YOU A WOMAN WHO IS READY TO BUILD A CONSCIOUS BRAND, CREATE YOUR LEGACY, AND LET THE WORLD KNOW YOUR NAME?
THEN THIS TRAINING IS FOR YOU!
This training is for women who are ready to build their empires, travel the world, and bring their brand to the masses. In this 2 ½ hour Master Class led by Hay House Author Jennifer Grace and Conscious Business Strategist Berjheny Del Mar you will get crystal clear about how to build an Iconic and Conscious Brand Message to bring to the masses and how to take that brand and create abundance and freedom for yourself and conscious change to the world.
You will learn:
·How to get clear on your brand message and brand statement so that you can communicate what you do with clarity
·How to create a personal expert title and brand statement so you feel confident in sharing what you do
·How to get clear on your offer, transformation for your client, and your contribution so you can make a difference
·How to clearly identity your brands purpose, mission, and vision so people understand your intention
·How to use color, psychology to create emotional connection in your clients minds and hearts
·How to put together a remarkable and cohesive brand identity that will represent the real and most authentic you.
·How to weave in your story to become a unique brand so that you stand out from the rest
·How to create customer relationships and build your tribe so that you can build community and create unity
JG Tribe: $10 OFF CODE: ICON
When: March 10th at 1pm 
Where: Sacred Space Miami
ABOUT THE PRESENTERS:
Celebrity Coach and Conscious Influencer, Jennifer Grace, was voted Miami's number #1 Life Coach in 2016 and 2017 by New Times, she is a Hay House author whose book, Directing Your Destiny, was published in 2013. Her next book, Drop The Rope, will be released in 2019. Jennifer is also a renowned International Speaker and Radio Show Host. Based on the famed Stanford University master's degree Course Creativity in Business her program, helps her clients get unstuck in their lives and in their businesses. She empowers her tribe to consciously guide and influence, so that they can be the change they wish to see. Jennifer cu­rrently leads workshops and courses in Miami and LA, as well as online. She leads give back retreats many times a year and over the last 10 years she has traveled to 18 different exotic destinations and has hel­ped raise over $50,000 to assist communities in need worldwide.
Website:  www.jennifergrace.com
————-
Berjheny Del Mar is conscious serial entrepreneur, business desig­ner, branding strategist, in-demand consultant and mentor with more than 18 years of experience designing and growing purpose-driven, businesses and thriving brands.
She helps passionate, smart, creative and heart-centered women, change-makers, and visio­naries monetize their expertise, launch passion-ba­sed businesses, create authentic brands, and make the quantum leap they know they are capable of whi­le making the difference they want to make.
A wanderess with a gypsy soul. Wife and mother of two global citizens, who speaks multiple languages and travels the world teaching, learning, working, playing and discovering. She is passionate about sustainability, wellness and social innovation. An ardent crafter, lover of authentic experiences and participant in the great expe­riment of life / work balance with the goal to help woman create a fulfilling life and ignite positive change in others through entrepreneurship.
Website: www.Creatige.com