Free Gift –
Jennifer Grace's Acclaimed Future Self Meditation
Healing Under the Tuscan Sun
An Inspiration, Indulgence, and Renewal Retreat
Tuscan, Italy
September 10-16, 2020
Led by Jennifer Grace and Janet Namaste

Tuscany is truly an enchanting land . . . vineyards, gently rolling hills, sandy roads leading to rust-colored farmhouses, moss-coated castles, rounded hilltops dotted with quaint little towns.
Every inch of Tuscan land has been sculpted, first by the elements and then by generations of inhabitants whose goal was always to make the land as beautiful as possible.
During this extraordinary vacation of a lifetime each day will begin with a grounding foundation of yoga, meditation, transformational and healing workshops as we greet the rising of the Tuscan Sun. Mid-day we will journey out on different adventures, discovering all that Tuscany has to offer by visiting lush gardens, little hillside towns, vineyards, olive groves, and the famous healing hot springs. The evenings we will enjoy cooking classes, dine on farm to table food back at the villa by our private chef, or enjoy some of the fabulous local Tuscan eateries.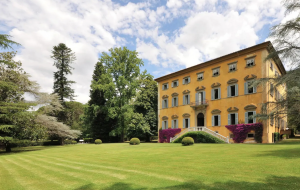 This life-changing retreat will be held at Villa Lungomonte, a truly a grandiose villa!
Constructed in the 15th century as a hunting retreat for the De Medici family, it offers all the grace of a bygone era combined with modern conveniences such as air-conditioned bedrooms, a lift, satellite television and Wi-Fi connection inside and outside the villa. The space, size and feel of the villa have made it a favorite amongst those looking for a special location.
As you walk down the marble staircase at the balcony or exiting the grand entrance you can walk to the big pool. Equipped with its casita boosting an outdoor and indoor kitchen, full bathroom, outdoor shower, tennis table, volleyball net, sun loungers and a covered dining patio the pool area is the perfect get together space.
​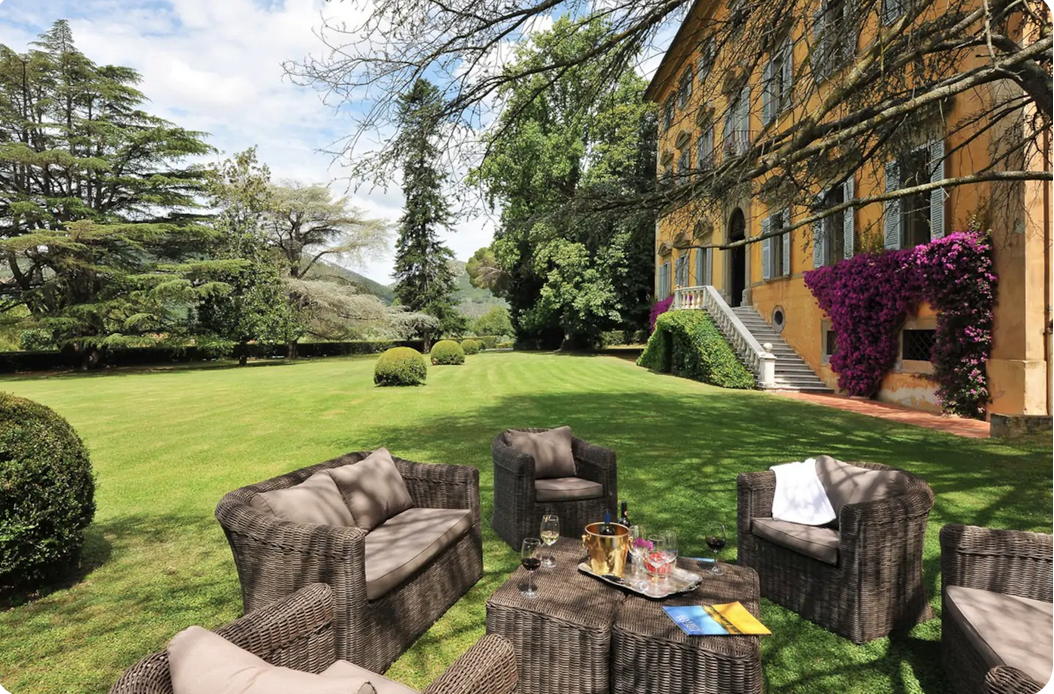 Also on the floor you'll find a marvelous old sitting area with one of the oldest fireplaces existing in Italy, this room is perfect for your afternoon tea or evening coffee. There are also your in-house studio, perfect if you need some space to meditate and on the side of the dining room: your breakfast room and fully equipped kitchen where our private chefs will be able to prepare the most delicious Tuscan meals!
Healing Under The Tuscan Sun Program
Release unknown blocks to your health and happiness; Learn powerful exercises to cut the chords of unhealthy relationships; Activate your authentic power and learn to speak and live in your truth; Charge your energy with a joy and vitality that becomes a way of life!
Italian Breakfast
Morning Guided Meditation
Yoga Class
Half Day Adventure
Transformation or Healing Workshops
Time to Relax
Wine and Cheese on the Veranda
Dinner "Al Fresco" Under the Stars
VIP Inner Circle $500 Discount if you register by March 1st 2020 – Investment only $2597
Includes: Daily Breakfast and Lunch, a Welcome and Closing Dinners, Shared Luxury Accommodations, All Yoga, Meditation, 'Healing Under The Tuscan Sun' Program Workshops, Excursion to Pisa, Hot Srings, a Two Vinyards for Wine Tasting Tour, One Cooking Class, and One Soul Art Painiting Class, Two Sacred Ceremonies and a Group Kriya Healing Session by two the world's most renown healers; Cecilia and Vivek Sharma.
**Private room available at extra cost 
**Airfare not included
**A non-refundable $1000 deposit require to hold your space, balance due July 10th 2020
**Travel insurance required
Jennifer Grace
Celebrity Coach Jennifer Grace, was named Miami's number #1 Life Coach by New Times in both 2016 and 2017. She is a Ted X Speaker, Radio Show host, and Hay House author whose book, Directing Your Destiny was published in 2013. Her next book, Drop the Rope, will be released in Fall 2020.
The CIJ Clarity Catalyst curriculum that Jennifer teaches, and is the lead train the trainer for, is a proven, state-of the-art methodology that was created by Dr. Michael Ray at Stanford University. This program helps students get crystal clear in who they are and what they want. It empowers them with practical mindfulness tools and proven emotional intelligence techniques to discover their next powerful chapter in their lives.
Jennifer currently leads workshops and courses in Miami at The Sacred Space as well as online, plus she leads wellness retreats all over the world. Jennifer also works with many corporations as a mindset coach such as: Prada, Turner, HCI, Wyncode, Office Depot, Northern Trust, just to name a few. www.jennifergrace.com
​
Janet Namaste
Celebrity Intuitive Life Coach, Janet Namaste has empowered thousands of her clients throughout the world to understand their life's purpose. Facilitating each individual through their own unique journey, Janet guides you through an authentic transformation that helps you discover your personal dreams and then launch them into reality. She is a Mind, Body & Wellness Practitioner with a BA in Education, furthered her studies in Computer Science and is an Expert Transformational Coach, certified in Creativity in Business Master's Degree Program from Stanford University, Hypnotherapy, and Regression Therapy. She is a skilled Clairvoyant, Claircognizant, Clairaudient, Clairsentient, and a Reiki Master with over 25 years of experience. Janet is the lead trainer in NYC for the Stanford University Mindfulness program where she teaches privately in the New York Department of Education. She has dedicated her life in teaching Mindfulness for both adults and children, enriching others while using her skills as an Intuitive Empath. For more info visit www.namastewithlove.com