Free Gift –
Jennifer Grace's Acclaimed Future Self Meditation
Culture Catalyst
Transformational Coach Jennifer Grace delivers a simple, yet profound corporate wellness course, called The Culture Catalyst based on the Stanford University Master's degree program (Creativity in Business) in mindfulness and emotional intelligence. These practical mindset tools and powerful relaxation techniques are designed to reduce stress, improve peak performance, enhance creativity, increase sales, and promote wellbeing.
These are the reasons why elite athletes, performing artists and business leaders are taking up the practice of mindfulness, and why it is being introduced into the world's most successful companies, banks, business schools – even the NBA and NFL.
The challenges we face at work are unprecedented and multiplying.  They include economic hurdles; unprecedented volatility in our external environments; tougher performance measurements; the demand for immediate, round-the-clock responsiveness; and the constant need to do more now… with less.
In this corporate wellness 8-week online live program your employees will receive:
Improved capacity to manage stress effectively
Greater emotional resilience
Enhanced clarity of thinking, objectivity and perspective
Improved executive functioning of the brain enabling greater innovation and creativity
Enriched empathy and ability to communicate more effectively with others
Ultimately, a more coherent sense of meaning and purpose in what we do, greater connection to those we work with, and increased life-work balance.
From an organizational perspective, mindfulness programs have been shown to help improve attendance rates and staff retention, enhance job performance, as well as increase sales and productivity.
Please contact Jessica DeSoto at Jessica@jennifergrace.com to set up a corporate wellness consultation with Jennifer Grace to meet your company's needs as well as the breakdown of what is taught in each of the eight modules.
PRAISE
"Bringing Jennifer to work with our retail sales team at PRADA was extremely impactful. The simple and practical mindfulness tools she shared at this corporate wellness event, as well as the follow up tool kit with guided practices to keep them on track, were very well received.  I could instantly see a shift in their demeanor, they seemed more connected as a team, less stressed, and more at ease. The leaders in attendance have also commented on the positive after effects noticeable with in their teams. I am excited to continue having Jennifer work with our other PRADA stores here in Miami."  – East Coast Regional Sales Director of PRADA.
"We host quarterly staff off site retreats and have invited Jennifer to be our facilitator for three of them. The impact these sessions have on our team is truly inspirational and motivational. Each time our team comes out of the sessions with a new perspective both on themselves and their journey both personal and professional. Our team has come up with some of our most innovative ideas at these sessions with Jennifer, which have had a lasting impact on our culture (everyone feels empowered and heard) as well revenue growth for the company. The team now looks forward to these retreats and the things they will learn about themselves and one another. We look forward to continuing to work with Jennifer!" – Johanna Mikkola, CEO & Co-founder Wyncode
"Working with Jennifer Grace and her Stanford program has created a huge change in awareness for our members, breakthrough out of the box creative thinking, and bottom line increases in our entrepreneurial endeavors. I highly recommend bringing Jennifer into your organization; it has paid for itself 100 times over. We are excited for Jennifer to lead our next conference in Bogota, Columbia for over 100 of our members."  – Jane Bolin President Entrepreneur Organization (EO) Broward Chapter
Jennifer was an integral and inspirational part of our Sales Training/Team Building Event. She added a dynamic element that many of our team members have never experienced before. She introduced powerful life changing tools we can use professionally and personally in our daily lives. We are a 100% remote company and the team building exercises we experienced brought us even closer together. Jennifer did an exceptional job and my team is inspired, encouraged and empowered to change lives more than ever. Valerie Price Director of Enrollment for Empowered Education (HCI)
"Our Training & Development Team at Prada USA hired Jennifer in hopes of delivering tools to help our retail managers through the many struggles brought on by COVID-19. The course has made a huge impact in our team's resilience, motivation and overall mental wellness through these unprecedented times. In addition to being an expert in her field, Jennifer is dedicated, generous and inspirational. She has made a difference for our company and has made a mark on all who took her course." – Veronica Bustamante Training and Development Manager at Prada Group
Other Speakers and Supporters of the Stanford University Curriculum
Steve Jobs, co-founder, Apple Computer
Jim Collins, author of Good to Great
Charles Schwab, founder & CEO, Charles Schwab & Co.
Ken Oshman, co-founder & CEO, IBM Corp
Michael Gould – founder & president, The Learning Tree Open University
Krista Brunson – producer, The Today Show on NBC
Philip Knight – founder & CEO, Nike, Inc
 "This program has something that no other has, a track record of very successful business people taking it, where people come back again and again and speak highly of it. It stays with you. It's been years since I have taken the program and not a day goes by that I don't think about something that I learned there." – Gary Marenzi President MGM Communications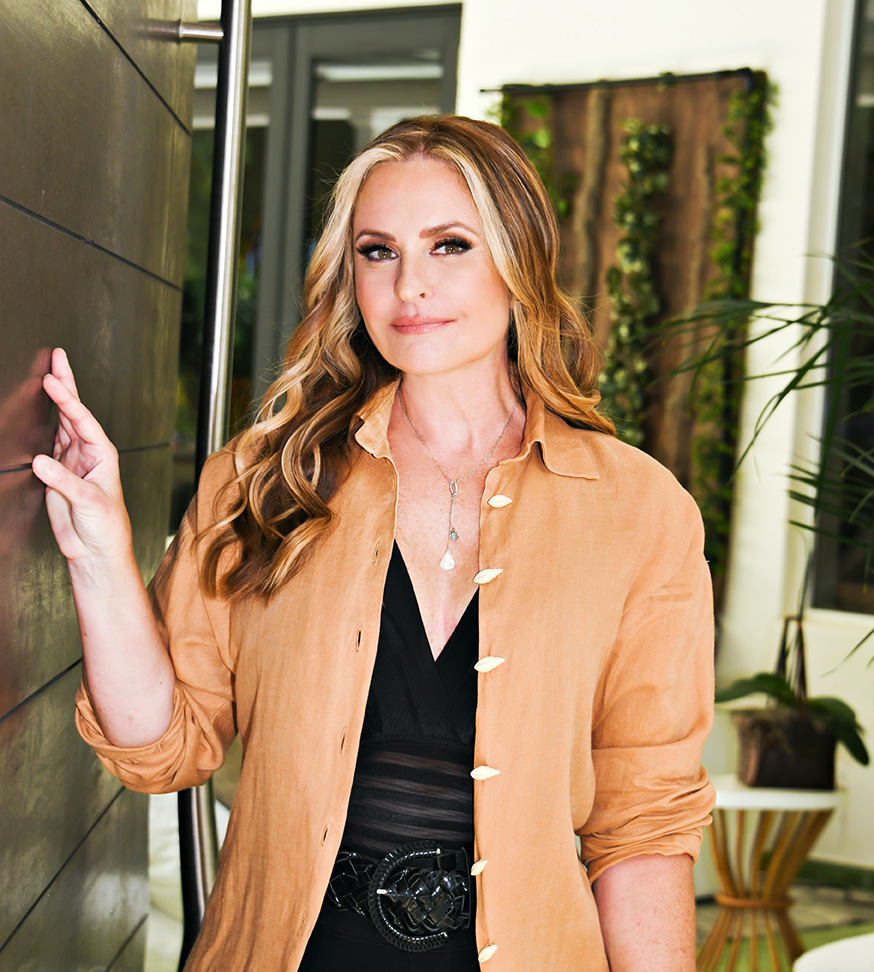 Jennifer Grace
Celebrity Coach Jennifer Grace, was named Miami's number #1 Life Coach by New Times. She is a Hay House Author, Motivational Speaker, Radio Show Host, and Corporate Wellness Coach.
Jennifer leads both individuals, and professionals in corporations, to reach next levels of human potential and peak performance with mindfulness and emotional intelligence tools based on the mindset course she teaches from Stanford University.
Jennifer Has been featured on NBC, ABC, CBS, Huffington Post, Mind Body Green, Elvis Duran, and the Jennifer McCarthy show, to name a few.
She has worked with corporations such as Prada, Facebook, Health Coaches Institute, Turner, Whycode Tech Company, Entrepreneur Organization, The Standard Hotel, and Gratitude Training Corp.
Jennifer currently leads workshops and corporate wellness programs internationally and online. Over the last 10 years, she has traveled to 20 different exotic destinations, and she and her retreat participants have raised over $50,000 to help communities in need worldwide with her give back retreats.
Please contact Jessica DeSoto at Jessica@jennifergrace.com to set up a corporate wellness consultation with Jennifer Grace to meet your company's needs.