Free Gift –
Jennifer Grace's Acclaimed Future Self Meditation
Finding Purpose in Bali
Bali, Indonesia
May 25-31, 2019
A Rejuvenation, Relaxation, and Renewal Retreat for Men and Women
Bali is an unforgettable and magical destination. Filled with locals who are kind and generous, a culture rich with tradition and sacred experiences, and filled with beautiful landscape to gaze and wonder at. It is truly the land of Bliss. From sweeping views of rice fields to beautiful sunsets over the ocean, Bali is a tropical, spiritual oasis.
During this extraordinary retreat of a lifetime each day will begin with a grounding foundation of yoga, meditation, and transformative workshops as we greet the rising of the Balinese Sun. Mid day we will journey out on different adventures, discovering all that Bali has to offer. In evenings we will dine on delicious Balinese cuisine and partake in sacred ceremonies and cultural entertainment.
The first three nights will be in Ubud at Alila Hotel and Spa
Ubud is a remarkable town in the middle of the island of Bali. For more than a century, it has been the island's preeminent centre for fine arts, dance and music. Ubud is a hot spot for literati, glitterati, art collectors and connoisseurs. Famous names walk its busy sidewalks everyday. Elegant five star hotels and sprawling mansions now stand on its outskirts, overlooking the most prized views in Bali.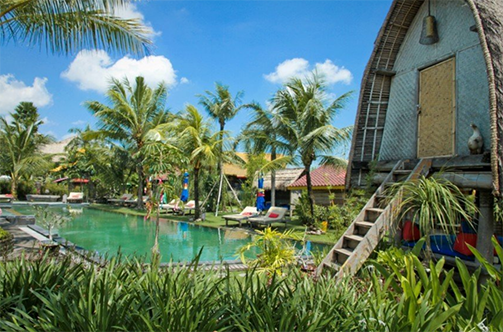 The second three nights will be at Desa Seni Village Resort and Spa in Semenak.
This will be an extraordinary authentic Indonesian experience trios through the exploration of culture, art, yoga, organic farming, and complete wellness. Desa Seni offers unique accommodations in luxurious antique wooden homes that have been refurbished and restored offering all of the modern comforts.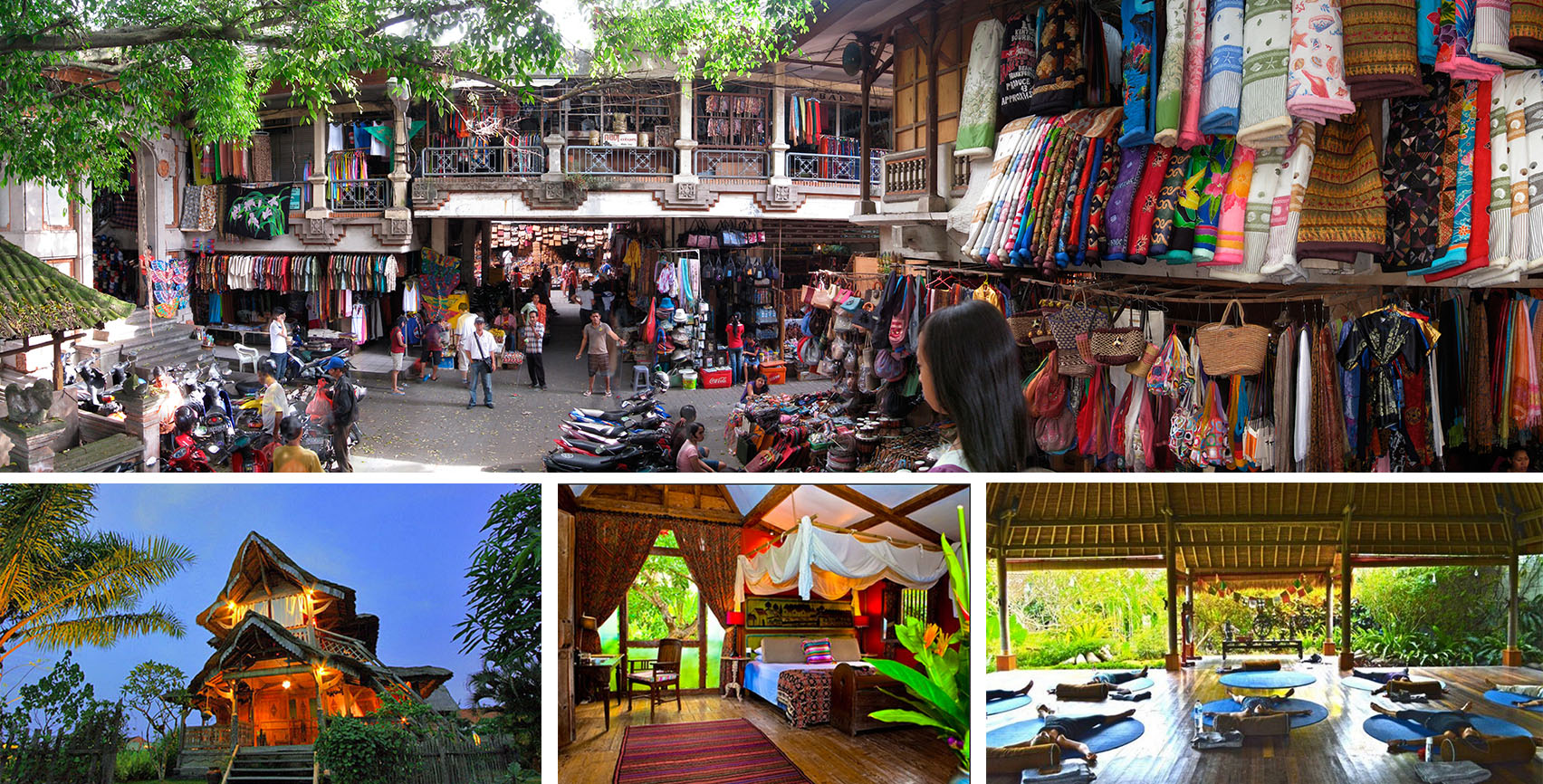 Seminyak boasts some of the most glorious beaches in Bali. Catch the legendary sunsets and enjoy the tranquil beauty, and marvel at Balinese ceremonies on the beach, complete with offerings to the gods. Sophisticated nightlife and high-end boutiques make this location have everything your heart desires.
All activities are optional and we will have 2 days of rest!
Typical Retreat Day
Bali Breakfast
Morning guided meditation
Yoga class
Transformational workshop
Bali Lunch
Half Day Adventure (Water Temple, Agni Fire Ceremony, Markets)
Time to relax at pool and spa
Dinner
Evening ceremony or night out on town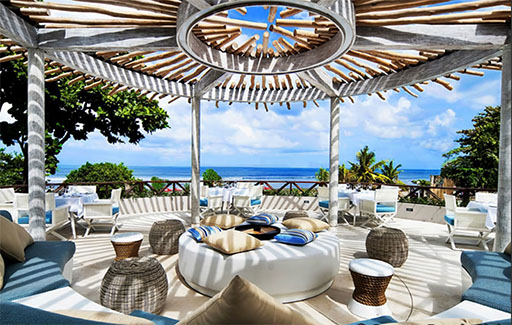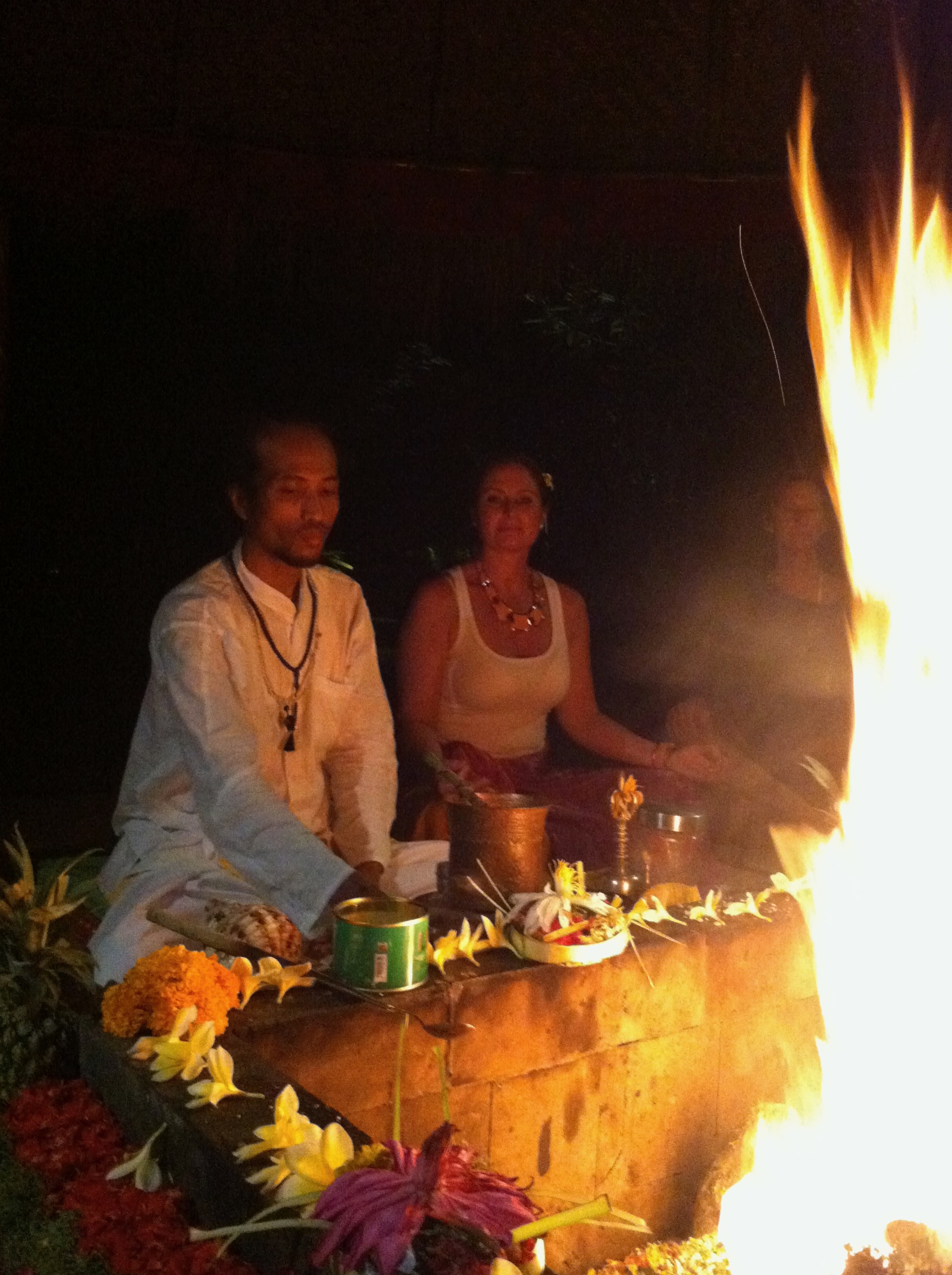 Your retreat is also a time for renewal, so included is a one hour massage.
In today's hectic time-starved world it becomes even more important to step back and assess who you are and where you're going. Join us on this amazing personal and cultural journey, one that has the capacity to bring you back to a place of peace, balance, and creative self-expression.
On our last evening will have a very special Balinese Agni fire ceremony to release our intentions out into the Universe to manifest all that we desire.
Retreat includes daily breakfast, lunch, dinner, six nights in double occupancy room, daily yoga and meditation classes, transformational workshops, transportation to and from the airport, one massage at the spa and three exciting excursions.
If you do not have a roommate, we can pair you up.

Interview Required
Jennifer Grace
Celebrity Coach, Jennifer Grace, was voted Miami's number #1 Life Coach in 2016 by New Times, she is a Hay House author whose book, Directing Your Destiny, was published in 2013. Based on the famed Stanford University Masters Degree Course "Creativity in Business" her program, The Clarity Catalyst helps students get "unstuck" in their lives. She empowers students with practical mindfulness tools and proven emotional intelligence techniques to discover their purpose and take inspired action to move forward in their lives. Jennifer currently leads workshops and courses in Miami at The Standard Spa, where she is the Resident Life Coach, as well as online. She leads give back retreats three times a year and over the last 8 years she has traveled to 18 different exotic destinations, and has helped raise over $50,000 to assist communities in need worldwide. Learn more about Jennifer at www.jennifergrace.com.
Val Price
Val Price is a Certified Health, Life and Transformational Coach. She completed her training from the Health Coach Institute.
She is passionate about wellness and personal development which has enabled her to facilitate wellness retreats around the world. Building community is central to each unique retreat experience, and is of the utmost importance to her. Val's vision is to help others be inspired and live their best lives now!
Her drive for helping others and giving back on a global scale has led her to do meaningful work on give back retreats with OmLuxe. She facilitates Wellness Workshops as well as Personal Coaching Sessions with clients on these life changing retreats.
She teaches the CIJ Insight for Life, a course that is based on a Stanford University Masters Degree class in mindfulness and emotional intelligence. She teaches at different levels for kids, teens and adults.
In between retreats, she spends time in her home country of the Philippines and her California US residence. She's an avid lover of nature, the environment and animals. She has a passion for photography and loves to capture the moment. www.vpwellness.org