Free Meet Your Future Self Meditation:
Jennifer Grace's Acclaimed Meditation
Level Up in Sedona
Sedona, AZ
February 5-9, 2020
An Empowerment Retreat for Women

The dramatic red rocks of Sacred Sedona set the tone for an experience beyond comparison – a connection to nature, spiritual experiences, deep relaxation, and the feeling of awe and wonder again and again. During this extraordinary retreat of a lifetime each day will begin with a grounding foundation Mindful Movement and Music by DJ Michelle Pooch, Mediation and Pranic Healing by Midia Joy, and Empowerment Workshops by Jennifer Grace, as we greet the rising Sedona Sun. Mid day we will either relax at the Spa or journey out on different adventures, discovering all that Sedona has to offer. A Sacred Ceremony in the Vortex will bring this transformational experience to a powerful culmination.
Enchantment Resort and Mi Amo Spa
This life-changing retreat will be held at Enchantment Resort, rated as one of the "Top 10 great places to relax your mind and body" by Condé Nast, Enchantment Resort is a luxurious haven for relaxation, rejuvenation and exploration. On site you'll find the award winning Mi Amo Spa, 3 golf courses, tennis courts, hiking trails, six swimming pools, three restaurants, and a deck just for stargazing. The memories of this breathtaking place will be with you long after you leave.
Typical Retreat Day
Gourmet Breakfast
Morning Meditation
Mindful Movement
Empowerment Workshops
Gourmet Lunch
Afternoon Sedona Adventure/ Sacred Ceremony /Spa
Dinner on Your Own
Creating 2020
During this extraordinary level up journey into self, you will get clear and inspired about what exactly you want to create for this next powerful year and decade. By learning Self-Mastery Transformational Techniques, participants will receive the tools necessary to let go of blockages, and discovery the magic and science of Quantum Physics 101, creating a new understanding of how to raise your energetic frequency to manifest your next level of dreams for 2020 with effortless ease and grace.
Sacred Ceremony
On the evening of your arrival you will be led by a shaman at a fire releasing ceremony, to clear a path to bring in the new. Together, we will also journey to a highly charged scared energetic vortex for a manifestation ceremony to raise your emotional frequency and powerfully send out your intentions for 2020
Spa
While there enjoy the Mii Amo spa at Enchantment resort, which has been ranked repeatedly by Travel + Leisure as The World's Best Destination Spa. The decadent spa offers an amazing array of traditional and exotic treatments, including massage, body wraps, facials, steam, sauna, heated pools and jacuzzi.
Investment is $2,695.00
Sign up by Dec 18th for a $500 discount – Investment $2195 only
Includes:  Daily Breakfast and Lunch, Shared Luxury Accommodations, All Movement, Meditation, and Empowerment Workshops and Sacred Ceremony.
*Airfare and transportation to hotel not included
$1500 deposit is required to hold your space 
Travel Insurance Required
Jennifer Grace
Celebrity Coach Jennifer Grace, was named Miami's number #1 Life Coach by New Times in both 2016 and 2017. She is a Ted X Speaker, Radio Show host, and Hay House author whose book, Directing Your Destiny was published in 2013. Her next book, Drop the Rope, will be released in Fall 2020. Jennifer currently leads transformational workshops and courses in Miami and Los Angeles, as well as online. She also works with corporations as a mindset coach such as: Prada, Turner, HCI, Wyncode, and EO (Entrepreneur Organization). Over the last eight years she has traveled to fifteen different exotic destinations, (including Bali, India, and Africa) She and her retreat participants have raised over $50,000 to help communities in need worldwide with her give-back retreats. Jennifer is thrilled to lead the Empowerment Workshops on the Level Up Sacred Sedona Retreat to assist women in creating their next decade with Hustle + Grace.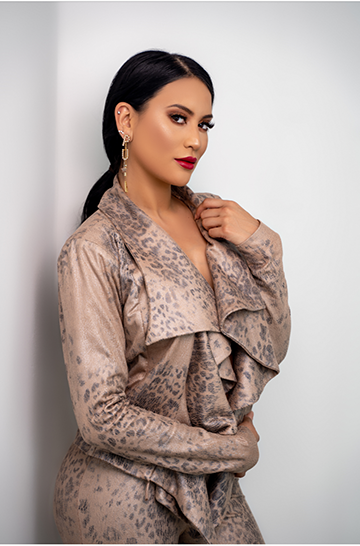 Michelle Pooch
Michelle Pooch is an iconic TV personality, DJ, Model, Event Planner, and Successful Entrepreneur. She has been practicing Yoga for 20 years and her secret to beauty is drinking tons of water, spending time with her daughter Bella,  and relaxing with CBD. Her new CBD line, along with her music company, Michelle Pooch Entertainment, keeps her busy…what grounds her is belonging to a beautiful circle of female movers and shakers, boxing, yoga, and listening to Bob Marley. Michelle is excited to create powerful playlists to go along with her mindful and motivational movement classes on this upcoming Sacred Sedona Level Up Retreat.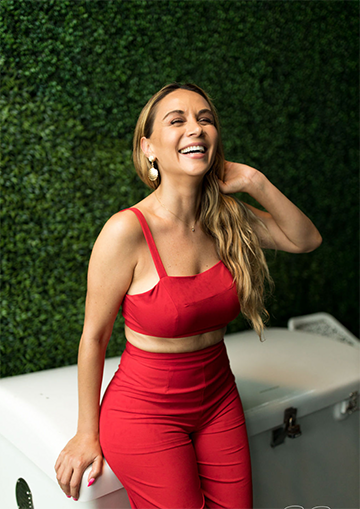 Midia Joy
Midia Joy is a Mindfulness  Practitioner with an Honors BA in Marketing from Florida International University.  Her primary field of study is Pranic Healing under Master Co as well as Vipassana Meditation by S.N. Goenka. 
Pursuing her passion for neuroscience & wellness, she certified as a Results Trained Coach in Conversations Skills & Brain Based Coaching by Neuro Leadership Institute in NYC. She is also certified as a Transformational Coach in Stanford's University Master's Degree Program "Creativity in Business". Over the last 10 years, Midia has helped international corporations to generate $ millions in revenue as she lead and coached top market teams. Since 2017, Midia has served as a volunteer Emotional Intelligence Coach at Silent Victims of Crime, a non-profit focusing on empowerment of children and families of inmates as well as partnered up with Leap, a non profit focusing on empowerment & mentorship of women in prison, on multiple mindfulness projects. Most recently, Midia Joy has been assisting Celebrity Coach Jennifer Grace, voted #1 Coach in FL, at Sacred Space, and she is overjoyed to be co-leading this level up retreat to share her gifts of meditation and healing with amazing and powerful women.